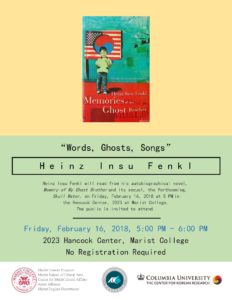 CKR AKS Regional Collaboration
CKR is pleased to co-sponsor this event with a generous support from the Academy of Korean Studies.

"Words, Ghosts, Songs"
Heinz Insu Fenkl, Associate Professor, SUNY New Paltz

Friday, February 16, 2018, 5:00 PM – 6:00 PM
2023 Hancock Center, Marist College
3399 North Rd, Poughkeepsie, New York
No registration required.
Heinz Insu Fenkl will read from his autobiographical novel, Memory of My Ghost Brother
and its sequel, the forthcoming, Skull Water.